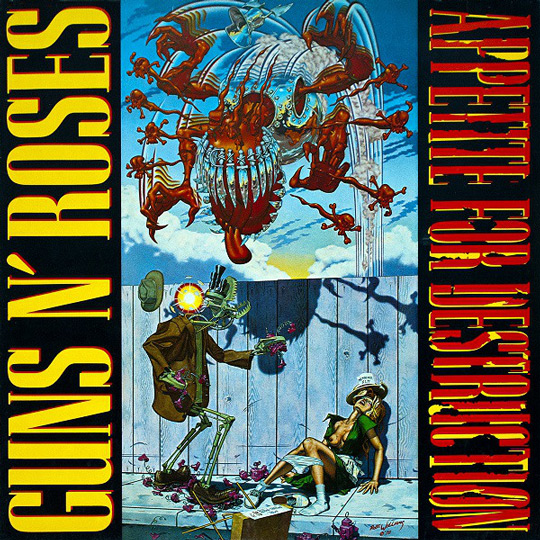 Una de las piedras angulares del Hard Rock es Guns 'n Roses, quienes vivieron su momento de mayor esplendor con el disco Appetite For Destruction, de aquí se desprendieron los sencillos que han hecho vibrar a chavorrucos como "Sweet Child O' Mine" y "Welcome To The Jungle".
Pues para aquellos que aún valoran los discos materiales, se lanzará el próximo 29 de junio diversas ediciones especiales del disco que entre sus joyas encontraremos los dos primeros intentos de grabación de "November Rain", los coveras a "Heartbreak Hotel" de Elvis Presley y "Mama Kin" de Aerosmith; así como dos grabaciones distintas de "Jumpin 'Jack Flash" de los Rolling Stones (una eléctrica y una acústica) y dos pistas nunca terminados "The Plague" y "New Work Tune ".
Appetite For Destruction CD
4CDs + 1Blu-Ray Audio
Appetite For Destruction LP
2LP con un holograma Hologroove de vinilo del emblemático logotipo de la banda
Super Deluxe Edition
Libro de 96 páginas con fotos inéditas del archivo personal de Axl Rose
Deluxe Edition
2CDs, 2LPs de 180 gramos, y 1CD remasterizado y sus equivalentes de descarga / transmisión digital.
 Appetite For Destruction: Locked N' Loaded Edition
Caja de madera maciza personalizada de 12x12x12 pulgadas envuelta en imitación de cuero y estampado deportivo
Ilustraciones de identificación instantánea con una cruz en 3D esculpida y pintada a mano en sus puertas
12 pistas remasterizadas compiladas a partir del EP y lados B de la era
25 demos inéditos de una sesión de grabación de 1986 en Sound City
Un par de temas también inéditos: "Shadow of Your Love" grabado en diciembre de 1986, un mes antes de las sesiones del álbum; y "Move To The City" tomada de las sesiones del GN'R "Lies
Siete singles de 7 pulgadas: los cinco singles originales del álbum, más uno para "Patience" y una nueva canción, la mencionada "Shadow Of Your Love"
Reedición del primer EP Live?! * @ Like A Suicide