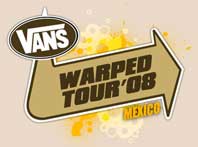 Originalmente habían difundido tanto Vans como varios sitios de internet y revistas que la gira sea realizaría el 14 de junio en el Foro Sol, pero en la página de Vans dieron la nueva fecha para el Warped Tour en México.
La fecha será el 24 de agosto y la página oficial ya está en construcción, así que hay que estar pendientes para más noticias.
Los posibles artistas que se presentarán, debido a que estarán en las fechas previas a la de México de la gira en Estados Unidos son:
3OH!3, Add.Verse, Against Me!, The Aggrolites, The Academy Is…, The Audition, Alesana, Anberlin, Angels and Airwaves, Between the Trees, The Briggs, Broadway Calls, The Bronx, Charlotte Sometimes, Cobra Starship, The Color Fred, Culture Shock Camp, Dante, The Devil Wears Prada, Evergreen Terrace, Every Time I Die, The Fabulous Rudies, From First to Last, Gym Class Heroes, Greeley Estates, Gil Mantera's Party Dream, From First to Last, Massive Monkee, Mayday Parade, MC Chris, Norma Jean, ORESKABAND, Othello, Pierce the Veil, The Pinker Tones, Protest the Hero, Reel Big Fish, Relient K, Say Anything, Set Your Goals, Shwayze, Skeet Skeet, Steve Steadham / Citizen X, Street Drum Corps Presents BANG!, Story of the Year, Street Dogs, We The Kings.
Por lo menos estas bandas están contempladas para toda la gira, a excepción de Against Me! que está en la última parte de la gira.