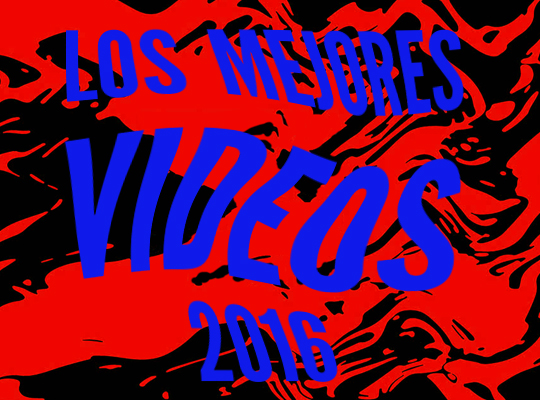 Por moonman
Nuevamente nos pusimos a explorar gran parte del material audiovisual musical del año, que cada vez es mayor por la cantidad de videos que salen diariamente. A pesar de que las redes sociales han estado cambiando la forma en la que recibimos los contenidos, ese lenguaje peculiar que han ido creando los videos musicales sigue vigente y adaptándose creando cosas nuevas e innovadoras.
El año pasado platicábamos de que la brevedad en tiempo y por el consumo de redes y streaming, hacía que nuestra atención cada vez fuera menor al ver un video, es por esto que esta selección trata de que te quedes desde el segundo 0:00 hasta el final por tener una trama extraña o interesante o por poseer una técnica de grabación muy creativa
Así que vayan por unas palomitas, una bebida al gusto y vean la selección de los mejores videos de 2016 según MHR.
50. Valentino Khan /// Deep Down Low
 49. Leon Else /// Black Car
48. The Avalanches /// Because I'm Me
47. Kaytranada /// Lite Spots
46. Porter /// Las China
45. ANOHNI /// Drone Bomb Me
44. Moderat /// Eating Hooks
43. Frank Ocean /// Nikes
42. PUP /// Sleep in the Heat
41. Jaimeo Brown Transcendence /// Be So Glad
40. Knox Hamilton /// Washed Up Together
39. Matt and Kim /// Let's Run Away
38. Bonobo /// Kerala 
37. Silver Rose /// Sueños de Amor
36. Peter Bjorn And John /// What You Talking About?
35. Las Bistecs /// Señoras Bien
34. Lorn /// Anvil
33. Guadalupe Plata /// Serpientes Negras
32. Anna Meredith /// Taken
31. The Avalanches /// Frankie Sinatra
30. Hinds /// Warts
29. Casseurs Flowters /// Inachevés
28. Metronomy /// Hang Me Out To Dry
27. The Avalanches /// Subways
26. Jane Bordeaux /// Ma'agalim 
25. Bonzai /// I Did
24. Lyrical School /// Run And Run
23. Tiësto & Jauz /// Infected
22. Kanye West /// Fade
21. Sam Spiegel & Ape Drums feat. Assassin /// Mutant Brain
20. Radiohead /// Daydreaming
19. Coldplay /// Up&Up
18. El Guincho + Mala Rodriguez /// Comix
17. Jamie xx /// Gosh
16. Stylo G x Jacob Plant /// Bike Engine
15. The Weeknd /// False Alarm
14. Triángulo de Amor Bizarro /// Nuestro Siglo Fnord
13. OK Go /// The One Moment
12. Andy Shauf /// The Magician
11. Major Lazer feat. Nyla & Fuse ODG /// Light it Up
10. Kari Faux /// Fantasy
9. DJ Shadow + Run The Jewels /// Nobody Speak
8. The White Stripes /// City Lights
7. Massive Attack + Young Fathers /// Voodoo In My Blood
6. The Chemical Brothers + Beck /// Wide Open
5. Kanye West /// Famous
4. OK Go /// Upside Down & Inside Out
3. Moby + The Void Pacific Choir /// Are You Lost In The World Like Me
2. Radiohead /// Burn The Witch
1. David Bowie /// Lazarus
Esta es la lista completa de los mejores videos 2016 según MHR:
1. David Bowie /// Lazarus
2. Radiohead /// Burn The Witch
3. Moby + The Void Pacific Choir /// Are You Lost In The World Like Me
4. OK Go /// Upside Down & Inside Out
5. Kanye West /// Famous
6. The Chemical Brothers + Beck /// Wide Open
7. Massive Attack + Young Fathers /// Voodoo In My Blood
8. The White Stripes /// City Lights
9. DJ Shadow + Run The Jewels /// Nobody Speak
10. Kari Faux /// Fantasy
11. Major Lazer /// Light it Up
12. Andy Shauf /// /// The Magician
13. OK Go /// The One Moment
14. Triángulo de Amor Bizarro /// Nuestro Siglo Fnord
15. The Weeknd /// False Alarm
16. Stylo G x Jacob Plant /// Bike Engine
17. Jamie xx /// Gosh
18. El Guincho + Mala Rodriguez /// Comix
19. Coldplay /// Up&Up
20. Radiohead /// Daydreaming
21. Sam Spiegel & Ape Drums feat. Assassin /// Mutant Brain
22. Kanye West /// Fade
23. Tiësto & Jauz /// Infected
24. Lyrical School /// Run And Run
25. Bonzai /// I Did
26. Jane Bordeaux /// Ma'agalim
27. The Avalanches /// Subways
28. Metronomy /// Hang Me Out To Dry
29. Casseurs Flowters /// Inachevés
30. Hinds /// Warts
31. The Avalanches /// Frankie Sinatra
32. Anna Meredith /// Taken
33. Guadalupe Plata /// Serpientes Negras
34. Lorn /// Anvil
35. Las Bistecs /// Señoras Bien
36. Peter Bjorn And John /// What You Talking About?
37. Silver Rose /// Sueños de Amor
38. Bonobo /// Kerala
39. Matt and Kim /// Let's Run Away
40. Knox Hamilton /// Washed Up Together
41. Jaimeo Brown Transcendence /// Be So Glad
42. PUP /// Sleep in the Heat
43. Frank Ocean /// Nikes
44. Moderat /// Eating Hooks
45. ANOHNI /// Drone Bomb Me
46. Porter /// Las China
47. Kaytranada /// Lite Spots
48. The Avalanches /// Because I'm Me
49. Leon Else /// Black Car
50. Valentino Khan /// Deep Down Low
Checa la listas de años pasados
2015
2014
2013
2012
2011
2010
2009
2008
Lo mejor de los 2000s