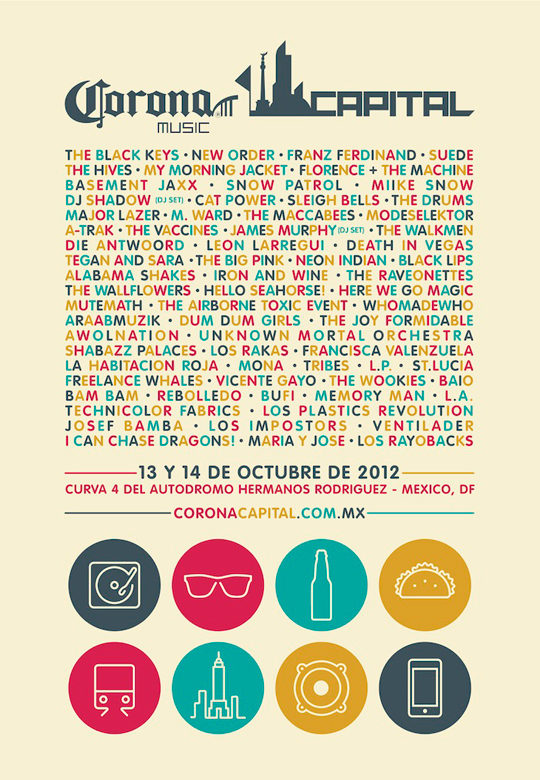 UPDATE: Cancela Mona su participación.
La tercera edición del festival internacional más importante de México regresa este año los días 13 y 14 de octubre en la Curva 4 del Autódromo Hermanos Rodríguez, ampliando un día más sus actividades.
Estos son los artistas que se presentarán en la edición 2012 del Corona Capital por día:
Sábado 13 de octubre
Franz Ferdinand
Suede
The Hives
Basement Jaxx
Miike Snow
Cat Power
Sleigh Bells
Major Lazer
The Kills
The Walkmen
Die Antwoord
León Larregui
Death In Vegas
Iron And Wine
The Wallflowers
Hello Seahorse!
MUTEMATH
Airborne Toxic Event
Dum Dum Girls
The Joy Formidable
Zulu Winter
Awolnation
Unknown Mortal Orchestra
La Habitación Roja
Freelance Whales
Vicente Gayo
Wookies
Baio
Bufi
Technicolor Fabrics
Los Plastics Revolution
María y José
Los Rayobacks
Domingo 14 de octubre
The Black Keys
New Order
My Morning Jacket
Florence + The Machine
Snow Patrol
DJ Shadow (DJ Set)
The Drums
M. Ward
The Maccabees
Modeselektor
A-Trak
The Vaccines
James Murphy (DJ Set)
Tegan And Sara
The Big Pink
Neon Indian
Black Lips
Alabama Shakes
The Raveonettes
Here We Go Magic
WhoMadeWho
Araabmusik
Francisca Valenzuela
Shabazz Palaces
Los Rakas
Tribes
L.P.
St. Lucia
Bam Bam
Rebolledo
Memory Man (Sergio de Zoé)
L.A.
Los Impostors
Josef Bamba
Ventilader
I Can Chase Dragons!
Corona Capital 2012
Curva 4 del Autódromo Hermanos Rodríguez
Sábado 13 y domingo 14 de octubre
Por día $900, 2 días $1,400, VIP por día $2,000
Preventa Banamex 6 y 7 de agosto, venta general 8 de agosto
El acceso VIP tiene lo siguiente:
– Acceso a la gradas VIP con vista preferencial a los dos escenarios principales
– Acceso a la carpa VIP
– Zona de descanso con sombra
– Servicio de venta de alimentos y bebidas exclusivo
– Servicio de baños VIP
– Guardarropa
– Pase de estacionamiento (Un pase de estacionamiento en la compra de 4 boletos en una sola transacción)
Mapa del Corona Capital 2012

2011
Reseña
Portishead @ Corona Capital