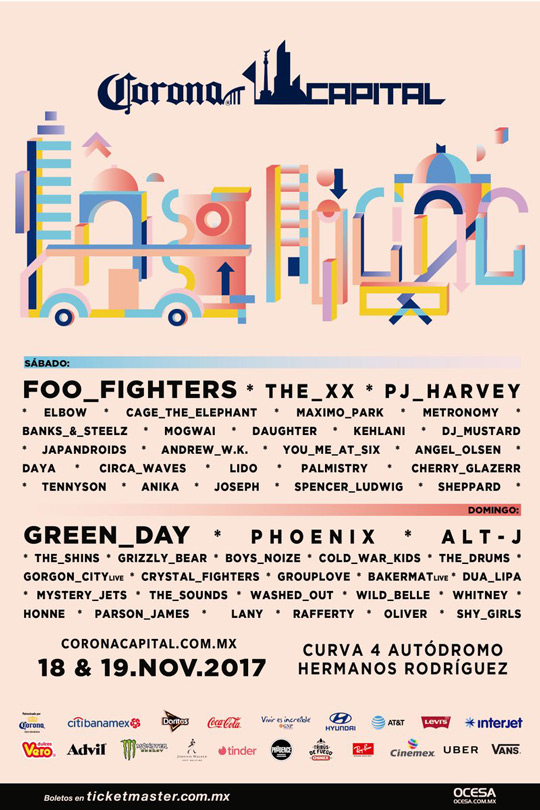 UPDATE: Cancela DJ Mustard su participación por causas ajenas al festival.
Desde que The xx destapó su participación en el Corona Capital 2017 en su pasada presentación en abril, ya se han venido rumorando muchas bandas y los carteles falsos comenzaron a aparecer. Se destaparon muchas bandas que por medio de sus redes sociales y en la página oficial se confirma que estarán en la Ciudad de México el próximo 18 y 19 de noviembre.
Estas son las bandas confirmadas para el Corona Capital 2017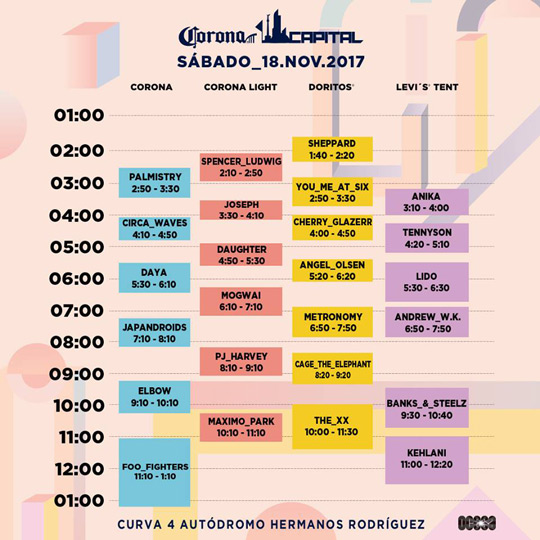 Sábado 18 de noviembre
Foo Fighters
The xx
PJ Harvey
Elbow
Cage The Elephant
Maximo Park
Metronomy
Banks & Steelz
Mogwai
Daughter
Kehlani
DJ Mustard
Japandroids
Andrew WK
You Me At Six
Angel Olsen
Daya
Circa Waves
Lido
Cherry Glazerr
Palmistry
Tennyson
Spencer Ludwig
Anika
Joseph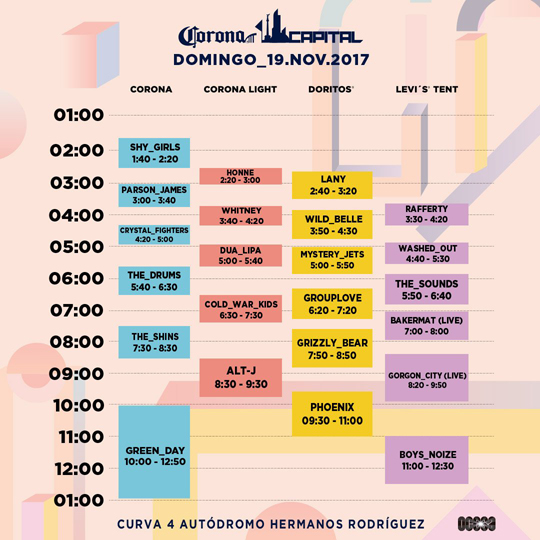 Domingo 19 de noviembre
Green Day
Phoenix
Alt-J
The Shins
Boys Noize
Gorgon City
Grizzly Bear
Cold War Kids
The Sounds
The Drums
Mystery Jets
Washed Out
Crystal Fighters
Grouplove
Dua Lipa
Bakermat
Wild Belle
Whitney
Honne
Parson James
Lany
Rafferty
Oliver
Shy Girls
¿Cuándo?
Sábado 18 y domingo 19 de noviembre
¿Dónde?
Curva 4 del Autódromo Hermanos Rodríguez
Boletos
Fase 1:
Abono por los 2 días: $1,700
Abono Plus $3,250
Fase 2:
Por día: $1,150, Abono de 2 dias $1,900
Plus por día $2,550, Abono Plus $3,750
Fase 3:
Por día: $1,300, Abono de 2 dias $2,100
Plus por día $2,550, Abono Plus $3,750
Fase 4:
Por día: $1,450, Abono de 2 dias $2,300
Plus por día $2,800, Abono Plus $3,950
Fase 5:
Por día: $1,700, Abono de 2 dias $2,600
Plus por día $2,900, Abono Plus $4,150
Fase 6:
Por día: $1,950, Abono de 2 dias $2,900
Plus por día $3,000, Abono Plus $4,500
Renta de lockers por día
$280
Aparta el tuyo aquí
Estos son los beneficios del área Plus:
Estacionamiento privado (1 parking por cada 4 boletos)
Fast line para accesar al festival
Pit en una zona lateral al escenario en los 4 stages del festival
Plataforma elevada para la visibilidad
Concierge con atención personalizada antes y durante el festival
Área de carga de celulares
Área especial para niños
Selección gastronómica
Hotspots con Wi-Fi
Bares de cockteleria especializada por Limantour
Sistema de pago cashless
Acceso a after party (sábado)
Meseros y posibilidad de reservación de mesas
Baños premium en cada escenario.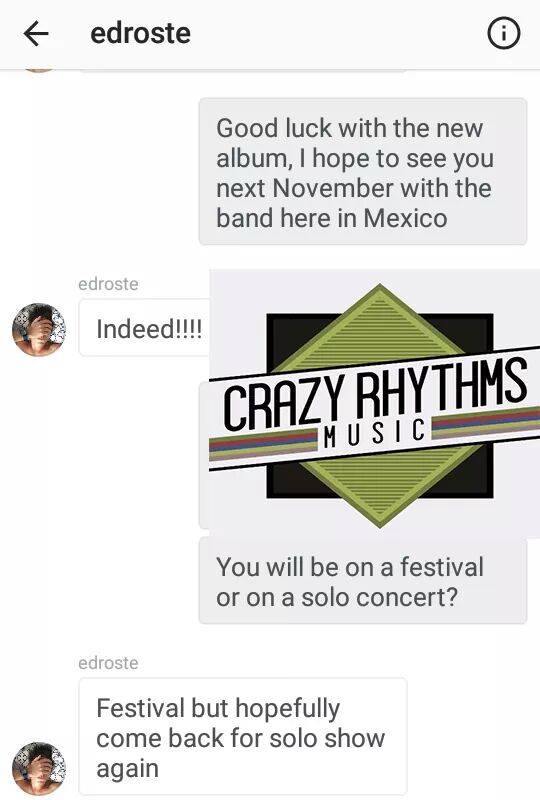 Mexico, we are coming back!!!! We play Festival Corona Capital​ this November. Can't wait! #CoronaCapital17

📷 Katy Cummings pic.twitter.com/pxj7zK4hnW

— C I R C A W A V E S (@CircaWaves) May 8, 2017
MEXICO: Looking forward to playing at @CoronaCapital this November! #CoronaCapital17 pic.twitter.com/wykYI8h8Bl

— You Me At Six (@youmeatsix) May 8, 2017
We're thrilled to confirm that we'll be performing at @CoronaCapital in Mexico! #CoronaCapital17 pic.twitter.com/w5SH5aiv18

— Mogwai (@mogwaiband) May 9, 2017
México: ¡nos vemos en el @CoronaCapital! #CoronaCapital17 pic.twitter.com/wMnqnJRwLV

— The Drums (@thedrumsforever) May 9, 2017
AMADO MÉXICO! We're coming for ya baby #CoronaCapital17 xxx pic.twitter.com/MDjTJFNyKa

— Mystery Jets (@mysteryjets) 9 de mayo de 2017
La alegría nos invade porque @Japandroids están confirmados al #CoronaCapital17 ❤️ pic.twitter.com/NQILvyoC7Y

— Arts & Crafts México (@artsandcraftsmx) May 9, 2017
¡Estamos felices de confirmar que estaremos en el @CoronaCapital en México! #CoronaCapital17

— GROUPLOVE (@GROUPLOVE) May 9, 2017
elbow will play Mexico City's #CoronaCapital17 Festival in November. Tix on sale 15th May, 11am local time. pic.twitter.com/AHMSyh6KUQ

— elbow (@Elbow) May 10, 2017
Excited to announce our FIRST EVER Mexico gig! We'll fly out in November for @CoronaCapital…. #CoronaCapital17 pic.twitter.com/L1E3mwSWK9

— Maximo Park (@maximopark) May 10, 2017
Mexico, see you at @CoronaCapital! 🔪 #CoronaCapital17 pic.twitter.com/RnfgHrIKKi

— Banks and Steelz (@banksandsteelz) 10 de mayo de 2017
México✌️ ¡nos vemos en el @CoronaCapital en Noviembre! #CoronaCapital17https://t.co/v4DH2Ypoyk

— The Shins (@TheShins) May 10, 2017
PJ Harvey will perform at Mexico City's @CoronaCapital on 18 November. Tickets on sale 17 May from https://t.co/fvNYQ31yc0 #CoronaCapital17 pic.twitter.com/eG0g7zR7vJ

— PJ Harvey (@PJHarveyUK) May 10, 2017
Mexico City! ❤️ 🇲🇽 ❤️ https://t.co/BoKE0b94A8

— Grizzly Bear (@grizzlybear) May 11, 2017